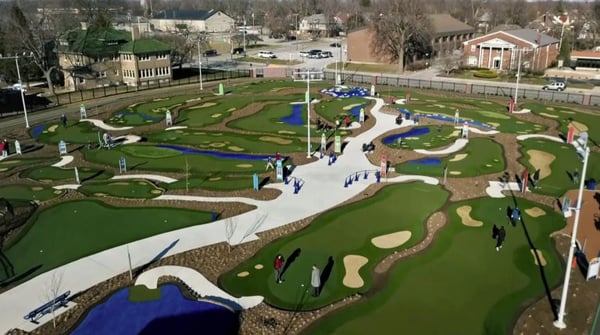 Spring 2018 features the grand opening of the 7.5 acre Riley Children's Health Sports Legends Experience at The Children's Museum of Indianapolis. The world's largest children's museum's new immersive learning experience allows children and their families to learn as they participate in sports activities inspired by some of history's greatest athletes.
Sustainability supports all this activity while it saves water and pollution. About 18 tons of soy-backed, technologically advanced artificial turf made by SYNLawn anchors more than 60,000 square feet of the miniaturized world-famous golf greens as well as football, baseball and soccer mini fields. SYNLawn's EnviroLoc™ backing replaces up to 60 percent of petroleum-based polymers with biobased materials, including soybean oil. The grass is 100 % recyclable, made in America and conserves water.
Water saved: Approximately 840,000 gallons (equaling 46 average-sized swimming pools) of water will be saved each year by using biobased SYNLawn vs natural grass.
Pollution averted: the equivalency of 168 hours of car exhaust won't get released into the atmosphere since environmentally-friendly SYNLawn requires no mowing.
Tons of Turf: The eight types of SYNLawn turf covering the 18 miniaturized world-famous replica golf holes, nine introductory golf holes and nine toddler holes weight 11.8 tons (23K+ pounds) and SYNLawn turf from the combined football, soccer and baseball mini-fields weigh 6.3 tons (12K+ pounds)
For more information, go to Synlawn.com