High oleic soybean oil is put to work in a new video released by the United Soybean Board. The video features a paving demonstration where USB, the Iowa Soybean Association, Asphalt Paving Association of Iowa and the research team at Iowa State University came together to showcase a new biobased polymer for asphalt made possible with the power of soy.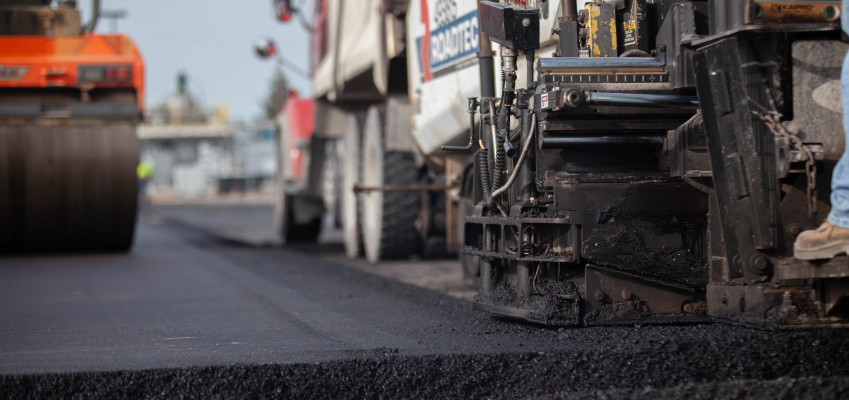 The polymer is made from high oleic soybean oil and offers a lower-cost and cleaner alternative to the traditional binding agents used in asphalt.
"We get pretty excited about what our beans can do and where they end up — particularly when it fills a market need and brings profit opportunities to farmers across the country," said Gregg Fujan, soybean farmer from Weston, Nebraska, and USB director. "It's our mission to innovate beyond the bushel, and we work hard to provide opportunities like this one through building strategic partnerships, funding innovative research and more to drive demand and preference for U.S. soybeans."
Iowa State University paved a parking lot at their BioCentury Research Farm in Boone, Iowa, to do additional testing and demonstrate their confidence in the product. Asphalt test tracks[1] paved last year with the soy-based substitute are performing exceptionally well, according to the researchers.
"Asphalt chemistry is very complex, and the oleic acid content in soybean oil is kind of the secret sauce they've been able to use. It increases the reuse rate on asphalt grindings from 17% to over 30%, so it changes the chemistry of that mix, and it's very advantageous for the industry," Fujan added.
Soybean oil has also been used successfully as an asphalt sealant[i]. According to the recent tests conducted at Iowa State University, high oleic soybean oil outperforms competition of other natural oils and even petroleum- and formaldehyde-based lubricants and applications in asphalt — building on previous success in everything from plastics to rubber to turf and tires.
There are over 4 million miles[2] of paved roads in the U.S. that require significant upkeep, opening the door to significant opportunities for high oleic soybean oil for years to come. Contracts to grow high oleic soybeans in 2020 are available now, with several elevators across the Midwest and select areas in Maryland.
"These beans make more money than conventional beans," said William Layton, soybean farmer from Vienna, Maryland, and USB director. "It just seems like a no-brainer to grow these. They're easy to take care of, and you get paid more for it."