The City of Beachwood, Ohio's agreement to build a new dog park unleashed a question: Would they use artificial grass?
"The environmentally friendly benefit of turf was the real sticking point," says Community Services Director Karen Carmen. "Once everyone realized the turf requires no watering, is recyclable, and made from soybeans as opposed to petroleum, they were sold. Plus, no muddy paws!"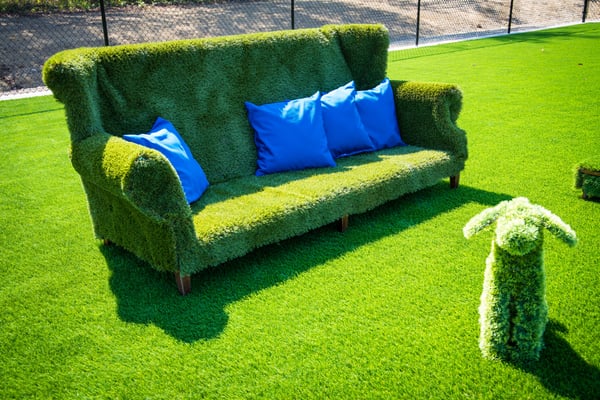 To create the unique 22,000-square foot park in the Cleveland suburb, Carmen worked collaboratively with SYNLawn Northeast Ohio. The park features turf-covered canine furniture, play structures, and a web camera that allows residents to have a live view. The inventive collaboration won the prestigious 2020 award for Commercial Landscape Project of the Year from the Synthetic Turf Council (STC).
"We couldn't have done it without SYNLawn," says Carmen who credits SYNLawn's hands-on approach for helping the project stay cost effective. "They were competitively priced and made the experience as smooth as possible by literally rolling up their sleeves to help with on-site installation. I can't imagine doing it any other way."
SYNLawn Northeast Ohio Vice President Amanda Wilkins praises the city's team of dedicated staff and residents for working so closely with SYNLawn to create the installation for the community. When it opened, Barkwood Dog Park had 117 members. The popular park quickly amassed more than 400 who own more than half of the city's dog population.
"Our residents like to be in the know," said Carmen. "Amanda and her team were great with educating us on the composition of the turf, and I'm thrilled to learn that we're standing on U.S. soy as residents of one of the top soy-producing states."
In fact, according to Carmen, the soy story is the key for any other municipal entity deliberating between grass and turf.
"The person who can see the value in turf has to have a vision and realize the great lifecycle benefit," said Carmen. "There are no lawn mower emissions, no water, and virtually no maintenance. Plus, by using American-made SYNLawn, you're not only curbing dependence on foreign oil, but you're also helping the American soybean farmer."
To see the community of Barkwood Dog Park, visit their website here.
SYNLawn's EnviroLoc™ backing replaces up to 60 percent of petroleum-based polymers with biobased materials, including soybean oil. The grass is recyclable, made in America and conserves water. To learn more about SYNLawn, visit www.synlawn.com.