"Fascinating" is hardly the description one would expect from middle schoolers who watched blacktop sealer dry on their school parking lot. Yet, Vicky Gorman's students applaud these assignments because they connect them to real-world science of products used in their school's award-winning sustainability program.
In 2014, students at Medford Memorial Middle School in Medford, NJ began learning that soybeans, like the ones growing in local fields, are an ingredient in a variety of biobased products that benefit their environment.
"Working with the United Soybean Board (USB) and resin manufacturer Reichhold has been such a rich educational experience for my students," said Gorman, one of Medford Memorial School's 7th grade science teachers. "The support of a national organization (USB) and a leader in industry (Reichhold) is a priceless connection for a classroom teacher. New Jersey has adopted the Next Generation Science Standards (NGSS). The Blacktop Sealer experiment is NGSS, all the way–authentic, project-based learning at its best.
"Most importantly; however, is that science, and not science education, is driving the lessons in my classroom."
A November 2015 lesson allowed a select group of 7th and 8th grade students, who are part of the Medford's Citizen Science Education Program (CSEP), to apply five different blacktop sealers to a school parking lot. One is soy-based and the others are made with asphalt and other non-biobased materials.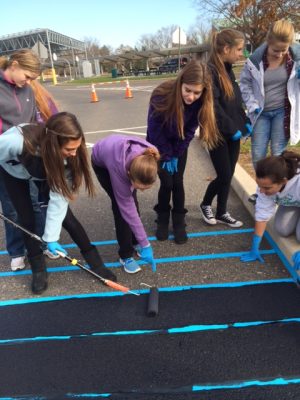 "I especially liked the fact your company is trying to create a better blacktop sealer for the environment," said student Jamie Miller in a thank you letter to Reichhold Research Associate Alicia Albrecht on behalf of the Medford students. "I also love the chemistry side of the experiment because I find science a fascinating subject. And, I love how you discover something new every day, so I hope to be in the science field when I am older."
Gorman's students will monitor the sealers' appearances and durability during the winter months. Importantly, they will meet with and provide data to Reichhold, which can use the performance data resulting from the school bus traffic and elements.
The experiment began in December 2014 when the students received two sets of coated plaques for a three-month blind study during the cold winter months. One set was kept indoors as a control. The other set was placed outdoors for monitoring of appearance changes as a result of exposure to weather conditions. Students quickly noticed a visual advantage of the main soy-based sealer ingredient — BECKOSOL AQ® 510 — compared to the asphalt emulsion and other systems included in the study.
"It has been such a pleasure partnering with these bright students who are genuinely excited about science and its relation to the environment," said Reichhold's Alicia Albrecht. "They have been very active and inquisitive participants throughout every phase of this joint project and their level of enthusiasm has been incredibly refreshing.
"Not only has this project presented Reichhold with a fantastic opportunity to mentor the next generation of scientists and obtain some real-world application test results, but it has given us an up close and personal perspective on the true importance of sustainable products to our youth. We owe it to them to continue down the path of developing high-performance biobased products made from renewable materials."
Reichhold's Technology Director Scott Cooley added, "Interest in biobased products continues to grow, and Reichhold's connections with various soybean councils and the USDA BioPreferred® program fosters interest in biobased technologies from schools, universities, and government agencies. The application of Reichhold's blacktop sealer formulations was a great opportunity for both companies to be able to demonstrate the performance and green profile of soy-based BECKOSOL AQ® alkyd latex resins to the future generation of buyers and scientists."
Looking to build on its success with biodiesel and other sustainability initiatives, Medford turned to biobased products, many of which use soybean oil as an ingredient to replace or reduce petroleum content. Over the last several years, Medford installed soy-backed carpet, applied Aexcel's BioStripe® traffic marking paint (which is also made with one of Reichhold's soy-based resins) and began using other biobased products such as: lubricants; drain and septic treatment; mold and mildew remover; carpet shampoo; white board restorer; all-purpose cleaner; motor oil; and truck/bus wash. Read more about it here.
The majority of Reichhold's BECKOSOL AQ® product line has USDA BioPreferred® certification. Visit www.reichhold.com for more information.